Eye Care Is Health Care
Eye care is a crucial part of your health care tool kit. Most people likely picture the letter chart when they think of eye exams. Yet, visual acuity is only one aspect of vision. A comprehensive eye exam assesses your vision, health, and well-being.
Eye exams can uncover eye health risks and detect serious health problems impacting whole-body health, including diabetes, stroke, and heart disease. Your optometrist can treat eye diseases, provide solutions for everyday eye comfort, and support your vision goals.
Protect your sight and your health with regular eye exams. Visit Old Town Optix Optometry today!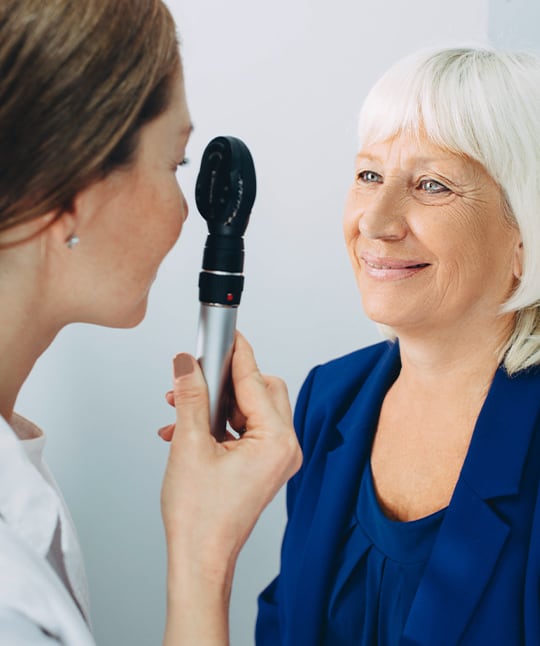 Proactive Care for Sight & Health
How often you should schedule an eye exam depends on your unique eye health. We follow the general guidelines outlined by the American Optometric Association (AOA):
Adults 18–64 should have at least one eye exam every 2 years
Seniors over 65 should have at least one eye exam annually
Your optometrist may recommend more frequent eye exams if you're at risk for eye conditions, such as cataracts, diabetes, or glaucoma. Patients with severe refractive errors, such as myopia (nearsightedness) or presbyopia, may also benefit from frequent exams to monitor eye health and keep prescriptions up to date.
What to Expect During an Eye Exam
Your optometrist will recommend assessments based on your visual needs and medical history. However, some standard evaluations include:
Slit lamp testing: assess the health of eye structures & diagnose eye conditions
We're Your Eye Health Resource
We're here to support your vision and health with personalized solutions. At Old Town Optix Optometry, our compassionate team is committed to delivering a high standard of service with the genuine care you deserve.
Come See What We're About
Our practice is located in the Old Town La Quinta shopping mall complex. Find our door to the right of the Old Town Tavern. Plenty of parking is available on the south side of the building, facing Avenida La Fonda.

Our Address
78015 Main St #107

La Quinta

,

CA

92253
Our Hours
Monday

:

9:00 AM

–

5:00 PM

Tuesday

:

9:00 AM

–

5:00 PM

Wednesday

:

9:00 AM

–

5:00 PM

Thursday

:

9:00 AM

–

5:00 PM

Friday

:

9:00 AM

–

5:00 PM

Saturday

:

9:00 AM

–

4:00 PM

Sunday

:

Closed