Protecting Your Eyesight
Many eye diseases and conditions develop slowly, initially causing few symptoms but gradually stealing your sight. When considering your eye health, even the small stuff matters. Detecting eye problems in the early stages of development gives patients their best chance at preserving sight.
Your optometrist can monitor changes to your eye health to diagnose eye problems and prescribe solutions to support your vision. We genuinely care about your comfort and health. Talk to our team today to learn more about protecting your eyes.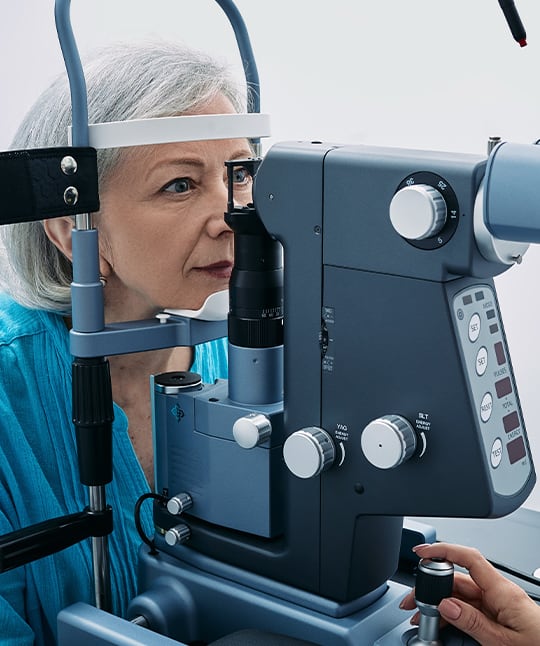 Common Eye Diseases & Conditions
Your optometrist can diagnose and treat many eye conditions, from eye infections to eye injuries. While some eye conditions have obvious symptoms—such as eye irritation or blurry vision—many eye diseases have few noticeable symptoms during early development. As a result, you can experience irreversible vision loss with no warning signs.
Regular eye exams are crucial for early detection. After diagnosing your condition, we can create a personalized treatment plan to control symptoms and preserve your sight.
Some common eye diseases and conditions your optometrist can treat include:
Eye Nutrition
You can support your eye health and vision with eye nutrition. Look for these key vitamins and nutrients:
Essential Fatty Acids: omega-3 fatty acids support visual development and retina function; omega-3 can improve dry eye by reducing eye inflammation & supporting tear production; sources include cold-water fish (salmon, tuna).
Lutein & Zeaxanthin: may prevent light-induced damage, reducing your risk of chronic diseases. Sources include dark leafy greens and colorful fruits & vegetables.
Vitamin A: nourishes the eye and supports pigment production in the retina (necessary for seeing color). Vitamin A can also protect against childhood blindness. Sources include orange vegetables, leafy green vegetables, eggs, & cantaloupes.
Vitamin C: an antioxidant that can lower the risk of cataract development and slow the progression of age-related macular degeneration. Sources include citrus fruits, green peppers, and tomatoes.
Vitamin E: an antioxidant that protects cells from free radicals and prevents the breakdown of healthy tissue. Sources include vegetable oils, nuts, and sweet potatoes.Zinc: can relieve oxidative stress and improve immune response to reduce your risk of age-related diseases, including macular degeneration. Zinc is also essential for moving vitamin V from the liver to the retina. Sources include red meat, oysters & shellfish, nuts & seeds.
Vision Therapy
Vision therapy can help patients see more comfortably. Your optometrist creates a personalized treatment program to strengthen visual skills, such as eye coordination or visual processing.
A child with poor academic or athletic performance may be suffering from a vision problem. With a combination of techniques, patients can experience significant improvement and feel confident about their vision.Methods include eye exercises, prismatic lenses, or uniquely designed video games like Dig Rush. Talk to your optometrist to see if your child may benefit from vision therapy!
We're Here to Help Preserve Your Vision
Many eye diseases and problems are preventable or manageable. We want to help you receive the care you deserve. Learn more ways to preserve your vision with personalized eye care at Old Town Optix Optometry.
Come See What We're About
Our practice is located in the Old Town La Quinta shopping mall complex. Find our door to the right of the Old Town Tavern. Plenty of parking is available on the south side of the building, facing Avenida La Fonda.

Our Address
78015 Main St #107

La Quinta

,

CA

92253
Our Hours
Monday

:

9:00 AM

–

5:00 PM

Tuesday

:

9:00 AM

–

5:00 PM

Wednesday

:

9:00 AM

–

5:00 PM

Thursday

:

9:00 AM

–

5:00 PM

Friday

:

9:00 AM

–

5:00 PM

Saturday

:

9:00 AM

–

4:00 PM

Sunday

:

Closed