Lens-Free, Clear Vision
Does waking up to lens-free, clear vision sound like a dream? Laser eye surgery can enhance your vision and reduce your reliance on glasses or contact lenses. Yet, there are many types, each with unique benefits and risks. So, how do you know if refractive surgery is right for you?
At Old Town Optix Optometry, we offer laser eye surgery consultations. We can assess if you're a candidate and walk you through the process. Whether you're interested in learning more or thrilled to get started, we can help.
Book a consultation with our team today!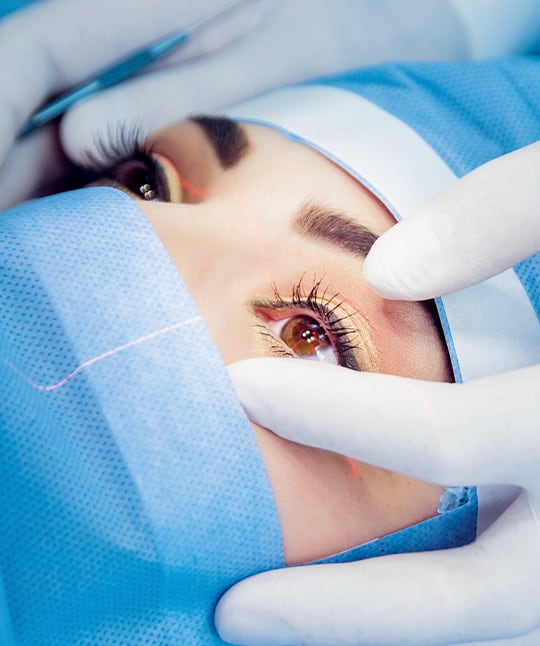 Types of Laser Eye Surgery
LASIK
Laser-assisted in situ keratomileusis (LASIK) is a procedure that permanently changes the shape of the cornea (the clear front of the eye). LASIK can enhance vision for many people, however, patients with thin corneas are not good candidates.
First, an eye surgeon creates a flap in the cornea and folds it back to reveal the middle section of the cornea. Then, a computer-controlled laser vaporizes tissue to reshape the cornea. Finally, the flap is replaced.
About 90% of patients achieve between 20/20 and 20/40 vision—without glasses or contact lenses.
LASEK
Laser epithelial keratomileusis (LASEK) is a variation of LASIK. Patients with corneas that are too thin for LASIK may be candidates for LASEK.
First, a thin flap is created from the cornea's outer tissue (the epithelium). Next, the surgeon loosens the tissue and folds the flap over. Then, a computer-guided laser removes tissue from the middle layer to reshape the cornea.
LASEK has a high success rate, similar to LASIK and PRK.
Consultation & Co-Management
Old Town Optix Optometry offers laser eye surgery consultations and co-management. A consultation assesses if you're a candidate for refractive surgery. Co-management is the process of vision and eye care after your surgery.
A consultation appointment includes a comprehensive eye exam to evaluate your eye health and refractive error. Laser eye surgery can improve most refractive errors, including myopia (nearsightedness), hyperopia (farsightedness), and astigmatism. However, severe refractive errors or unique eye conditions may make patients poor candidates.
Conditions that may affect your candidacy include:
Frequent eye infections
Frequent prescription changes
Health conditions (such as diabetes)
After determining if you're a candidate, we'll refer you to an ophthalmologist to perform the surgery. Then, we work closely with your ophthalmologist to monitor your progress and prescribe solutions for any changes or complications.
While most symptoms are temporary, typically resolving after 24 hours, some side effects can last 6–12 months during recovery. Some typical symptoms include:
Discomfort or irritation
Blurry vision
Sensitivity to light or glare
Whether your symptoms are minor or severe, temporary or long-term, we provide personalized care every step of the way.
Contact Us for Co-Management
We know you probably have questions, and we're happy to provide answers! Book a consultation to discover if you're a candidate and learn about the co-management process.
Come See What We're About
Our practice is located in the Old Town La Quinta shopping mall complex. Find our door to the right of the Old Town Tavern. Plenty of parking is available on the south side of the building, facing Avenida La Fonda.

Our Address
78015 Main St #107

La Quinta

,

CA

92253
Our Hours
Monday

:

9:00 AM

–

5:00 PM

Tuesday

:

9:00 AM

–

5:00 PM

Wednesday

:

9:00 AM

–

5:00 PM

Thursday

:

9:00 AM

–

5:00 PM

Friday

:

9:00 AM

–

5:00 PM

Saturday

:

9:00 AM

–

4:00 PM

Sunday

:

Closed