Preventing Vision Loss
Diabetes is a chronic health condition affecting how your body produces or uses insulin, the hormone that regulates blood sugar. In the US, more than 37 million adults have diabetes, and 96 million have prediabetes. Yet, many adults don't know they have it.
Diabetes can lead to multiple health complications, including heart disease, foot problems, hearing loss, kidney disease, skin conditions, and vision loss.
Annual diabetic eye exams can help prevent 95% of vision loss caused by diabetes. Get help managing your symptoms today.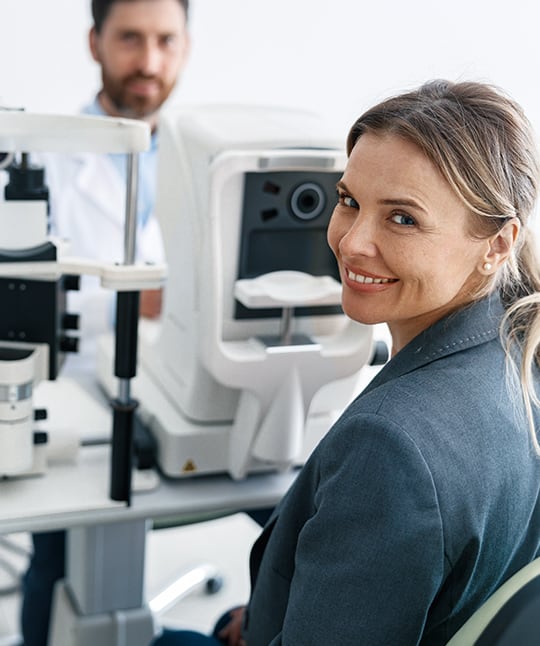 Diabetic Eye Disease
Diabetes affects blood sugar (glucose) levels. Elevated blood sugar can damage cells, contributing to diabetic eye disease and permanent vision loss. Diabetic eye disease refers to a group of eye conditions—cataracts, diabetic retinopathy, diabetic macular edema, and glaucoma—commonly resulting from diabetes.Diabetic eye exams focus on the retina and blood vessels to evaluate your eye health. Monitoring eye tissue changes can uncover eye health risks and help your optometrist prescribe appropriate solutions.
Get the Care You Deserve
Our team at Old Town Optix Optometry genuinely cares about your eye health. So don't wait to get the care you deserve. Together we can help you take control of your vision with personalized eye care solutions.
Come See What We're About
Our practice is located in the Old Town La Quinta shopping mall complex. Find our door to the right of the Old Town Tavern. Plenty of parking is available on the south side of the building, facing Avenida La Fonda.

Our Address
78015 Main St #107

La Quinta

,

CA

92253
Our Hours
Monday

:

9:00 AM

–

5:00 PM

Tuesday

:

9:00 AM

–

5:00 PM

Wednesday

:

9:00 AM

–

5:00 PM

Thursday

:

Closed

Friday

:

9:00 AM

–

5:00 PM

Saturday

:

9:00 AM

–

4:00 PM

Sunday

:

Closed