Stopping the Silent Thief of Sight
Glaucoma is called the silent thief of sight as it often develops with no symptoms while it causes irreparable harm. The group of eye diseases causes progressive damage to the optic nerve, a bundle of over one million nerve fibers responsible for transmitting visual information to the brain.
Regular eye exams are crucial for detecting changes to eye structures and monitoring eye pressure. Early diagnosis and treatment can save your sight. Talk to your optometrist about risk factors and protecting your eye health.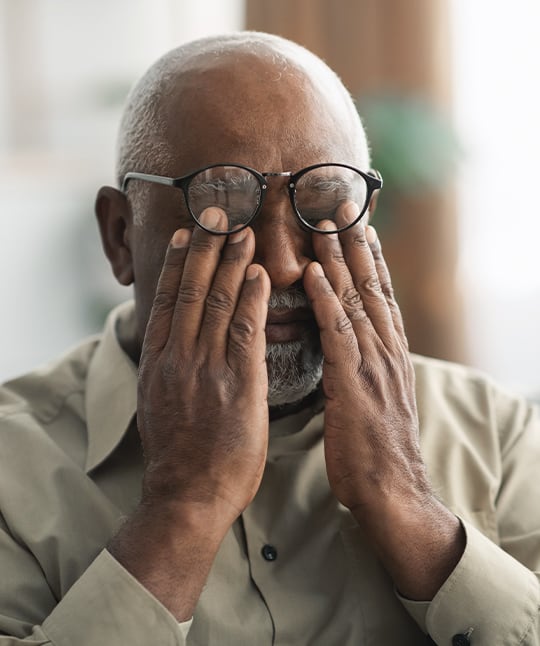 Common Types of Glaucoma
Most forms of glaucoma are caused by increased intraocular pressure (IOP). In healthy eyes, aqueous humor is produced and drained in equal amounts. The fluid nourishes the eye and flushes away waste through the drainage angle. When the drainage system is blocked, eye pressure rises as more aqueous humor is produced than the amount that drains.
There are many types of glaucoma, with the most common types including:
Acute closed-angle glaucoma is an eye emergency requiring immediate medical care. While most forms of glaucoma develop slowly with no symptoms, acute narrow-angle glaucoma can cause sudden and severe symptoms, including:
Blurry vision
Eye pain & redness
Halos around lights
Nausea & vomiting
Sudden or severe headache
Contact us or head to an emergency room if you experience symptoms.
Diagnosis & Management
Early diagnosis offers patients the best chance of preserving their vision. Glaucoma testing typically includes:
Glaucoma treatments focus on reducing eye pressure. Depending on your eye health, your optometrist may recommend various methods, including:
Visit Us for Glaucoma Testing
Seeing your optometrist regularly, even when you don't experience vision changes, is essential for protecting your eye health. Early detection, routine monitoring, and prompt treatment can prevent glaucoma from stealing your sight.
Come See What We're About
Our practice is located in the Old Town La Quinta shopping mall complex. Find our door to the right of the Old Town Tavern. Plenty of parking is available on the south side of the building, facing Avenida La Fonda.

Our Address
78015 Main St #107

La Quinta

,

CA

92253
Our Hours
Monday

:

9:00 AM

–

5:00 PM

Tuesday

:

9:00 AM

–

5:00 PM

Wednesday

:

9:00 AM

–

5:00 PM

Thursday

:

Closed

Friday

:

9:00 AM

–

5:00 PM

Saturday

:

9:00 AM

–

4:00 PM

Sunday

:

Closed